EMS advocacy work 2023-2-14
Advocacy Committee news
 The Advocacy Committee has been meeting weekly since the 2023 General Assembly opened in January. As of this week, there are 13 bills we have reviewed and are monitoring, supporting or opposing. You can view the bill tracker to learn about the bills in which we are engaged, as we update it weekly. Members of the committee have testified either in person or remotely when bills are discussed at committee hearings.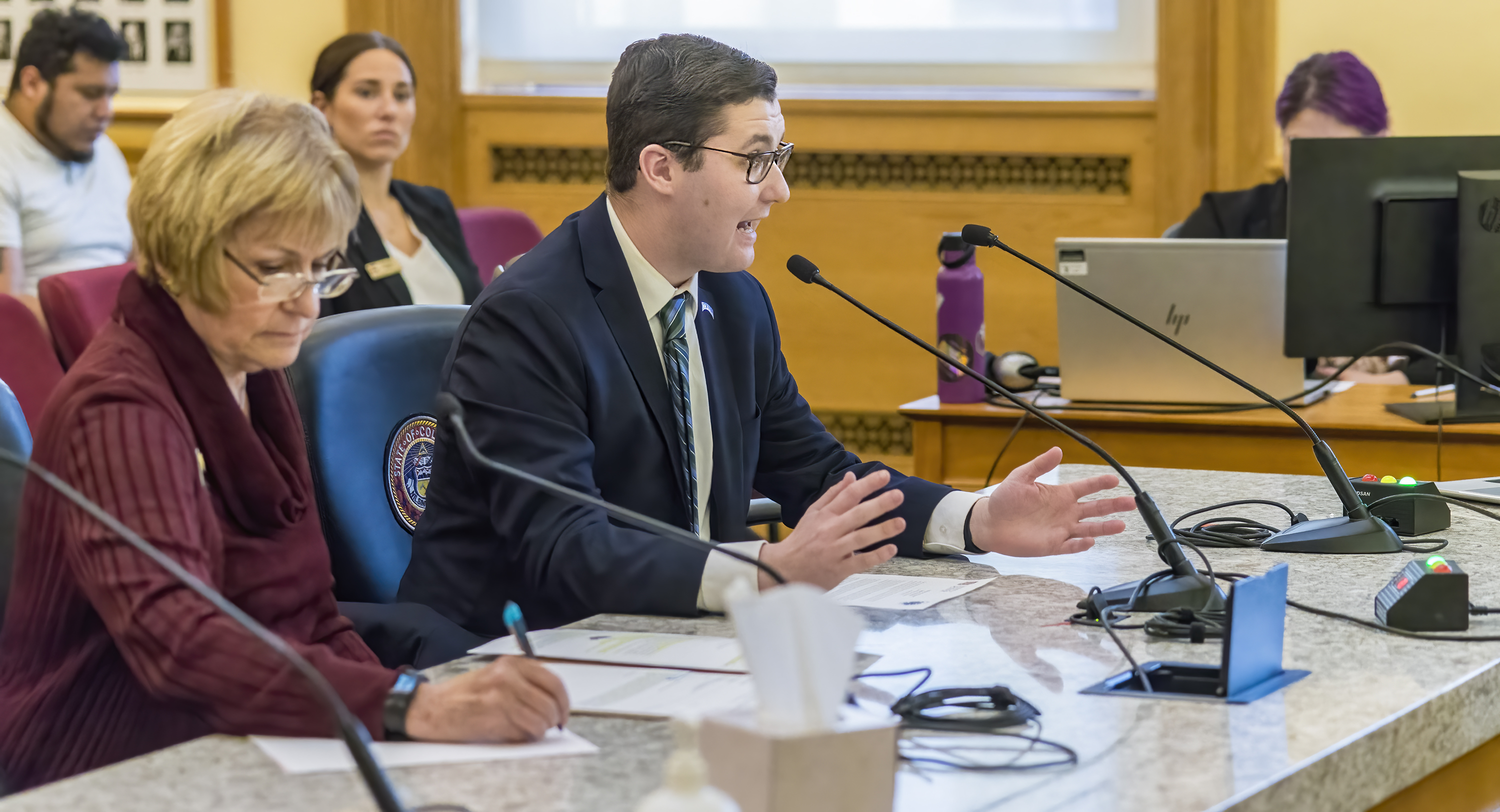 John Seward, the EMS program manager at the University of Denver, gave stellar testimony in support of Sen. Janice Rich's  SB23-023, "CPR Training In High Schools."
If you would like to join the committee's weekly conference call on Fridays at 13:30, send an email to Chairman Tim Dienst.

EMS Day at the Capitol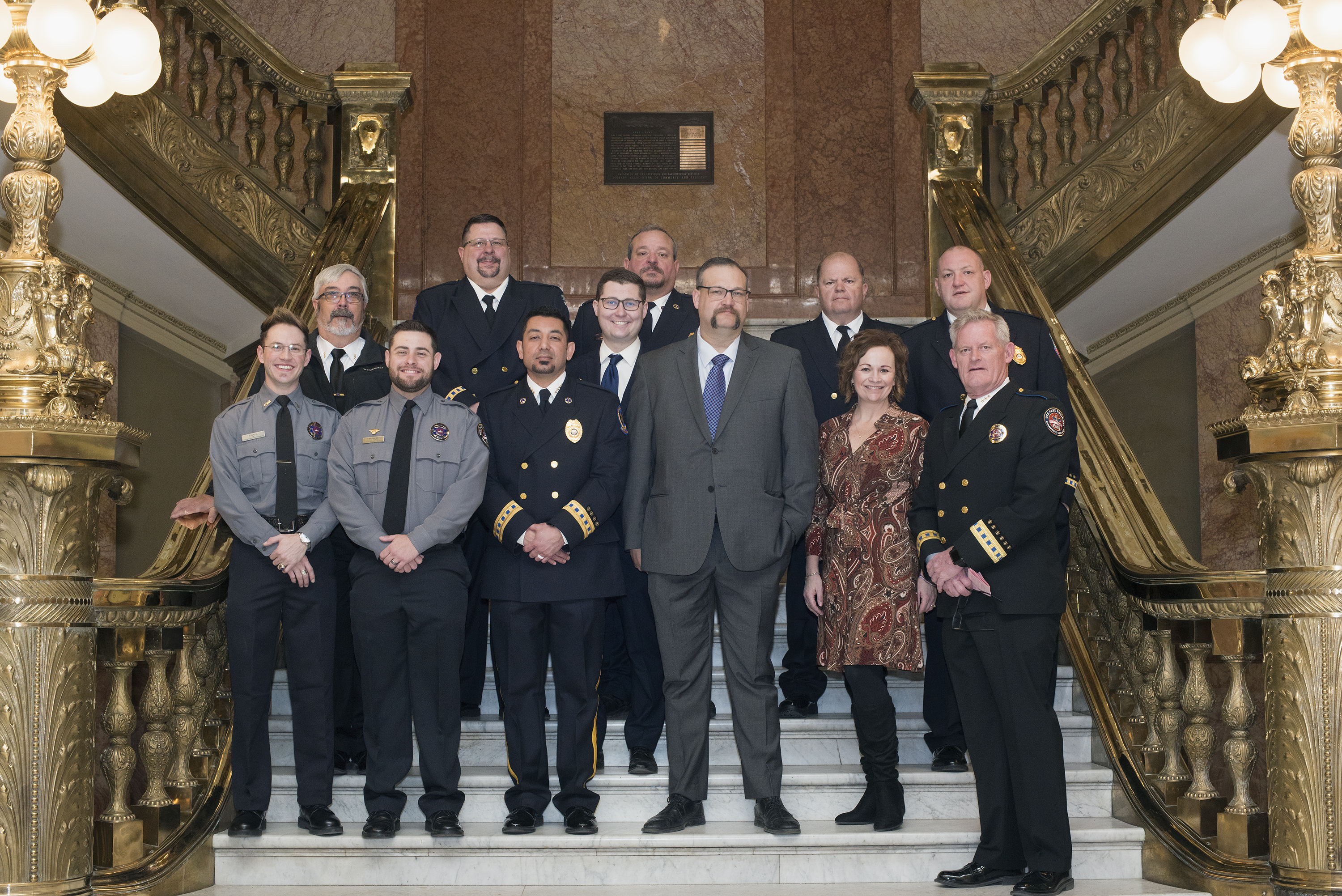 By Reuben Farnsworth
CCP-C, CP-C, LP, NRP, Delta County Ambulance District
The 2023 EMS Day at the Capitol on, February 7, had a great turnout from both EMS clinicians and legislators alike. EMS from around the state was well represented with EMS clinicians from numerous agencies, both sides of the divide, private and public services, field providers, administrators, RETAC coordinators and numerous others. We had many excellent conversations with lawmakers, about several items of interest to EMS across the state.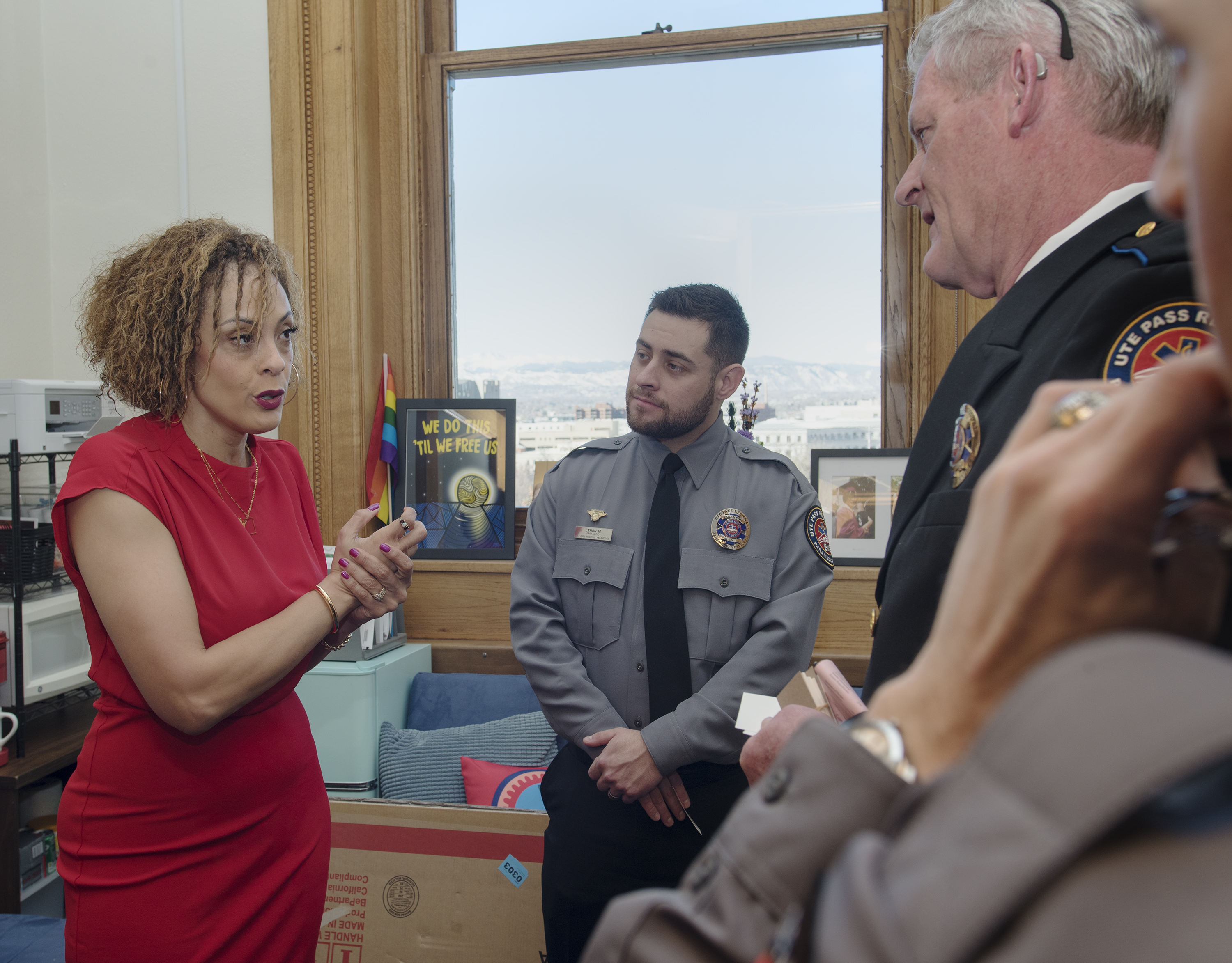 In true EMS form, a small cadre of the group at the Capitol was in the right place at the right time to save the day. Several agency administrators and two field personnel from Ute Pass Regional Ambulance District were visiting the Joint Budget Committee offices when one of Senator Zenzinger's staff suffered a mechanical fall on the stairs. Paramedic Ethan and EMT Zachary from UPRAD rendered care to the injured staffer while Chief Dienst made a gallant call to the 911 system (where he was put on hold).
Personnel from Denver Fire were first to respond, followed by Denver Paramedics who took over care. Sen. Zenzinger said that, luckily, the staffer was released later that evening. Coincidently, Senator Zenzinger was the recipient of the Golden Ambulance Award last year and has been a stalwart advocate for EMS at the Statehouse on more than one occasion.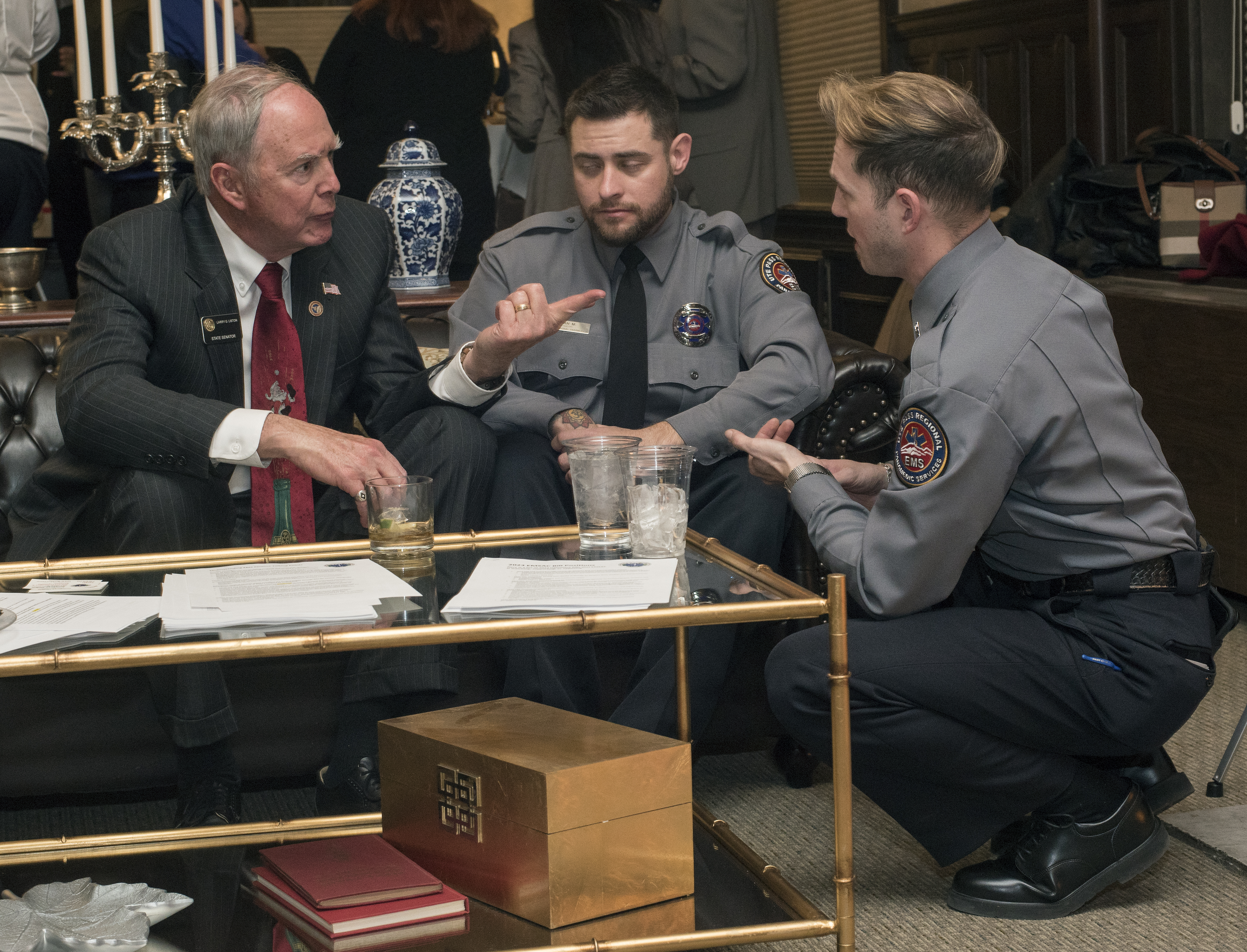 The legislative reception at the University Club was well attended as we shared the space with the Colorado Nursing Association. Sen. Zenzinger was effusive in her praise of UPRAD's Paramedic Ethan and EMT Zachary. So much so that, while praising them and the need for EMS everywhere, she nearly came to tears.
The evening finished up at the Brown Palace, with conversation and drinks, a few war stories and continued conversations with several legislators.
Many of our legislators in the state have a limited understanding of what EMS does and how we do it. All agencies in the state should invite your legislators for a visit and a ride-along in the coming year, so your lawmakers can better understand your needs and concerns.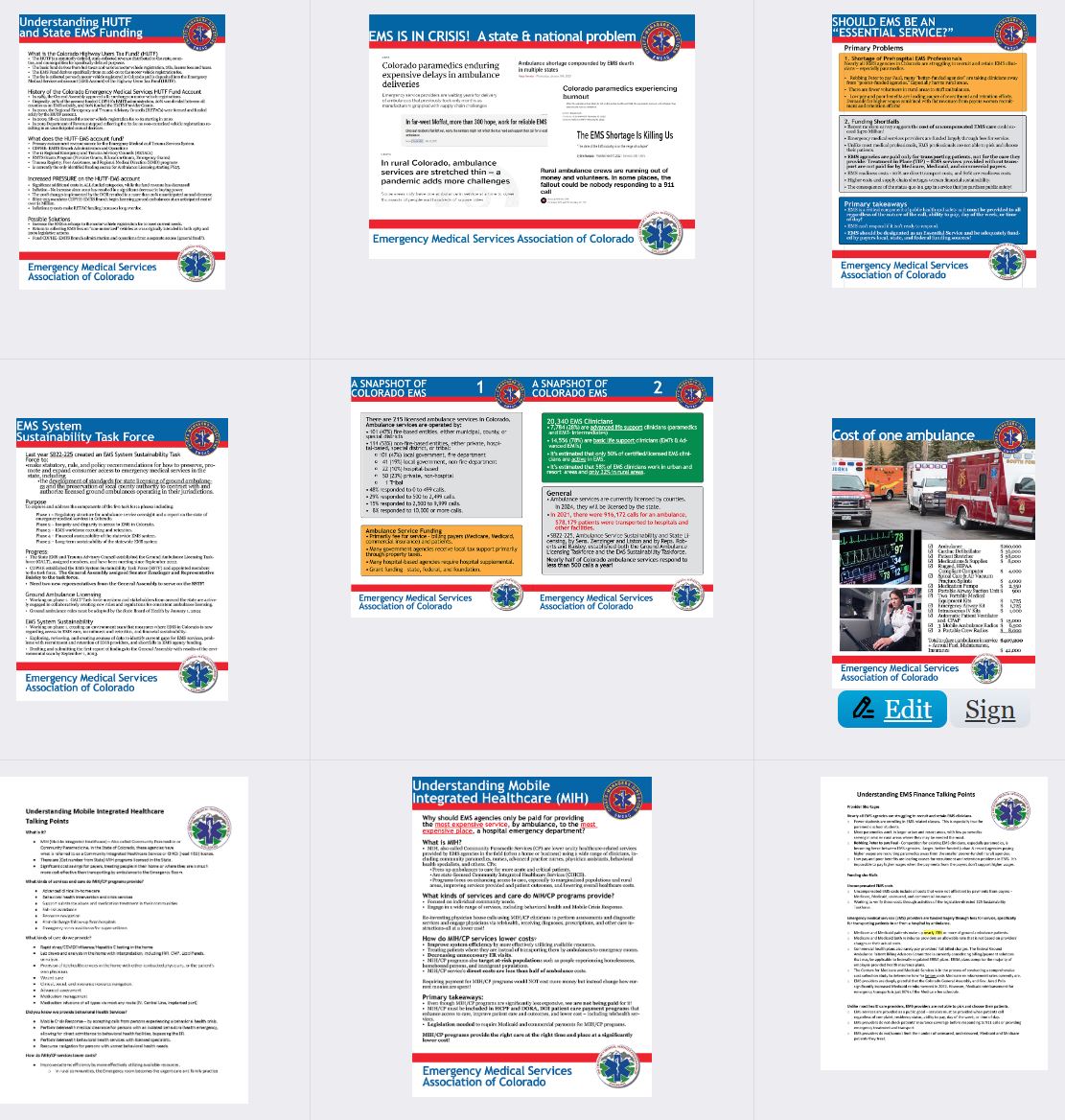 EMS Day at the Capitol resources
You can view and download printable versions of all the informational displays (left) used at this year's legislative reception,  here.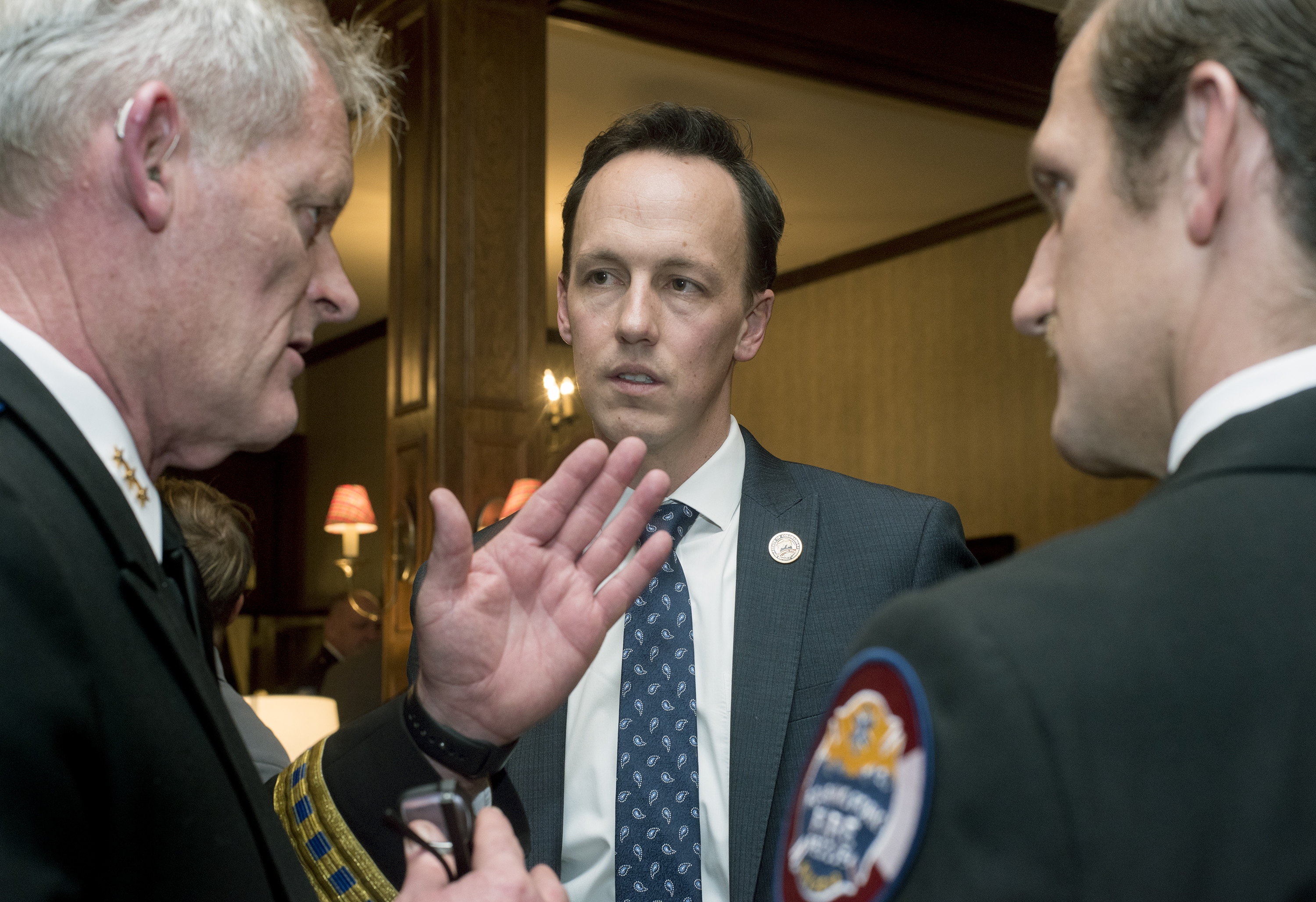 UPRAD CEO Tim Dienst (L) and Roaring Fork Fire Rescue EMS Chief Richard Cornelius (R) discuss EMS issues with Senator Dylan Roberts.
Share this post: