2018 Colorado State EMS Conference
November 8 - 11, 2018
Keystone Resort and Conference Center
Plan now to attend the 2018 Colorado State EMS Conference. Combine your professional and personal goals and the finest in EMS education during a refreshing late fall in Keystone. You will learn techniques and information to improve yourself, your patient care, your EMS agency and your state's EMS delivery system.
With the region's largest exhibition of EMS products and service suppliers, this event will be Colorado's EMS highlight of 2018. Don't miss this chance to meet some of the finest in the EMS profession: your colleagues. More than just an annual conference, the 2018 Colorado State EMS Conference, where Education+Motivation=Success, will continue to be the standard by which other state EMS conferences are measured.
*CE allocation booklet coming soon.
Individual Registration
*If you are registering an individual other than yourself, you must have the individual's email address and member number. If you are not a member and would like to join, or need to renew your membership, please click here. If you have trouble logging in, please email [email protected].
Group Registration
*If you are a group member and registering 4+ people from your agency, please fill out this form. Once this form is complete you will receive an invoice for the group registrations. Each person will receive an email with a discount code to fill out the form.
Not sure if you are a group member? Click here for a list of all current group members. Please note those in red are group members that will expire before November 31. All group memberships must be current through November 31 to receive group pricing.
Registration Rates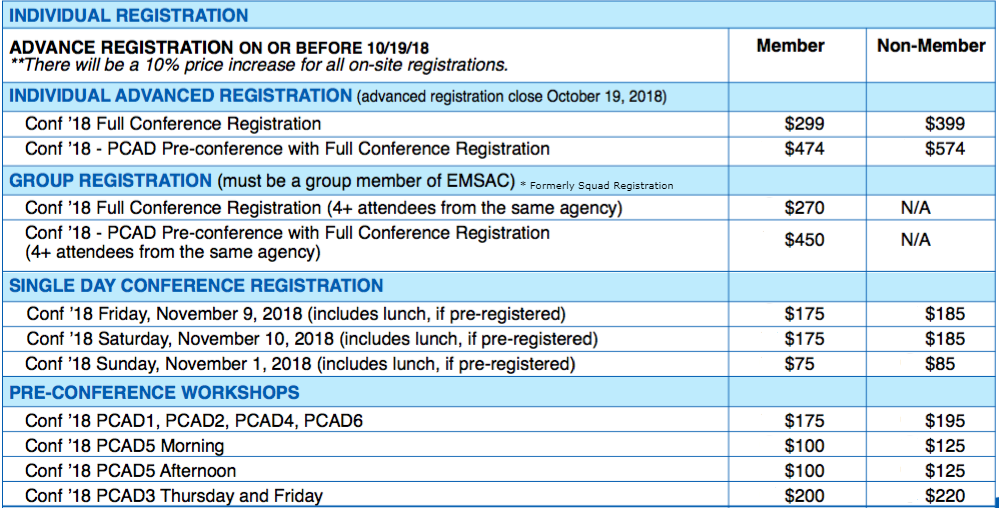 Housing Information
Cancellation Policy
All cancellation and refund requests MUST be submitted in writing to:
Colorado State EMS Conference
PO Box 3406
Englewood, CO 80155
Fax: (303) 758-9616
Email: [email protected]
Requests received on or before October 17, 2018 will be entitled to a full refund less a processing fee of $30. After October 17, 2018 but before October 31, 2018, the registrant will receive a credit certificate valid for use at the 2019 Colorado State EMS Conference.
– If you have any questions, concerns, or issues with this online form please contact us at 303-758-9611 or at [email protected].
2018 Scholarship
The EMSAC scholarship will be used for registration for the Annual Conference and will include a one-year membership. Those receiving a scholarship will be requested to submit a report of their conference experience for the EMSAC Star. Applications must be received by October 1, 2018. The EMSAC Conference Committee will notify the scholarship winner(s) by October 15, 2018.